This guest post is by Interior Decorating enthusiast, Jessica Christian.
We all love the idea of having a beautiful home, even me, and I am about the least domesticated goddess that you will ever find!
However, I have found that I take great pleasure in making my home look good, to the best of my admittedly limited capabilities and using the smallest possible budget – my poor credit cards curl up in my wallet and cry on a regular basis!
Using some of the hints and tips below, you will find that the ideal home décor is not as far away as you might think…
Décor Tip 1: Brighten Up Neutrals
When we moved into our house it was truly awful – florid floral wallpaper made the living room look tiny and the stairs, landing and smallest bedroom (our daughter's) were papered in lurid purple – think of all the shades of purple that there are, pick the worst one, and that was the one the previous occupants had used!
To counteract this, we stripped off all the wallpaper. Neither of us particularly like wallpaper, even when it is well done – and purchased gallons and gallons of white paint, which we happily splashed on all over the house. The end result was much brighter and cleaner.
Originally we had a navy blue lounge suite which worked very well with the white walls and the wooden furniture, but sadly, the lounge suite did not survive the test of time and it ended up being replaced by an immaculate beige one. (We were given the lounge suite by a childless couple, hence it was immaculate, but we did not get to choose the colour!)
The combination of champagne carpet (somewhat grubby now), beige lounge suite, pine furniture and white walls meant that we had something of a neutral overload going on!
We have combated this by using throws and cushions to great effect, adding a lovely red, dark navy and even a touch or turquoise to the suite – which has brightened up the entire room very nicely. Got the lovely cushion covers (above) from yorkshirelinen.com. They have done magic to our place.
Bright, high-contrast accents like this can make such a significant impact to any room!
Decor Tip 2: Storage Can Make All the Difference
We recently had to redo our sons' bedroom. The main reason for this was that our eldest boy, at 18 and 6'1″, had outgrown the bunk-bed and was in desperate need of a new mattress. We bought them a new-adult sized wardrobe – about two feet taller than the "children's one" they had, with loft beds so their desks (laden with games consoles, laptops and other technological gadgetry) could fit in the space beneath.
We also bought the most marvelous, enormous wall unit – the construction and positioning of which makes for a most entertaining tale by itself!
Our thinking behind getting the wall unit was that both our boys have lots of 'stuff' which was accumulating in ever-growing heaps and piles on the floor, making it all but impossible for them to keep it tidy by themselves. The unit now holds all their treasures safely and securely in a relatively small footprint – freeing up the floor space for the boys to spread out and enjoy their room – and the difference in keeping it tidy is amazing!
Another moral to this tale would be to use the full height of any room when planning out the décor.
Décor Tip 3: Make Use of the Walls
As mentioned above, we chose to paint our walls uniformly white when we decorated the house. Our thinking was that, firstly, white goes with everything and secondly – when it gets dirty or grubby, it is very easy to match for a quick touch up! Choose your paint or wallpaper to suit your tastes – some people find white walls to be cold and clinical or even boring; we make up for that by packing our house full of furniture and wall hangings to complement the walls.
Whatever your preferences, choose walls colours and patterns with a definite theme in mind, so you can gradually work towards the home of your dreams.
Decor Tip 4: Keep it Clean
Most of you will know this already, but it is worth mentioning again. If you have a carpet, think about getting it professionally cleaned and if you have wooden or laminate floors, perhaps invest in a steam cleaner – you will be amazed at how much dirt and grime comes off the floor with a thorough, professional cleaning!
Beautiful clean carpets and shining floors create an instant illusion of airy space and elegance sure to enhance any home.
Decor Tip 5: Declutter, Declutter, Declutter!
If there is any advice here that I am guilty of NOT taking, it's this one! Clutter detracts from elegant lines and can disrupt the theme and ambiance of a room. Be brutal with anything that does not belong in the room and learn to pack away treasures like children's paintings and books – and throw or give away what you do not use.
Here's a shot of a friend's house – unclutterered, simple & elegant…
Decor Tip 6: Mismatch and Mix it Up
Don't be scared to add in something a little different. My daughter's room has not been redecorated as of yet, but we got her some new bedding when we sorted out the boys' room. She wanted everything to be purple, and chose a very dark, quite severe shade.
In order to provide some relief from all the unrelieved purple-osity I persuaded her to choose a cushion in a different colour. I think it works very well, despite the colours being such strong contrasts and would recommend that everyone always thinks of one or two secondary colours for any room's décor.
As another example, in the kitchen shot that follows – an owl, a wine bucket and a small plant on top of the cabinets in complementary earth tones?? Why not!
Décor Tip 7: Keep Memories Close
Don't forget your past – keep old family photos as part of a vignette on a sideboard or hanging on the walls, or a memento of a past life. We have a wonderful African mask on the wall that serves as a reminder of the many happy years we spent on that beautiful continent. Incorporate these features into your décor, right from the planning stage and you will see how they can give the room a greater depth of interest and texture.
Your home is uniquely yours, and should reflect an impression of your likes and dislikes as well as being a safe haven and comfort for you and your family.
Don't delay your dreams – start planning your perfect home today!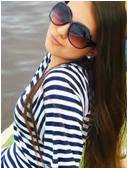 Jessica Christian is a conventional girl but with an unconventional passion for home décor and beautiful objects. The love for home décor has always kept her going, and she is a blogger herself with a voice to share real time experiences. She can be found at 4interiordesign.co.uk
Need Help From a Local Professional?
Related Posts